Transparency Center
An integral part of Palmdale Water District's mission is to be good stewards with ratepayer funds and to be accountable for how those funds are used. Accountability is critical to our process. As such, we readily provide information relating to staff compensation, water quality, and strategic planning for the future of the District. Should you have any questions, please contact us directly.
District of Distinction/Certificate of Transparency accreditation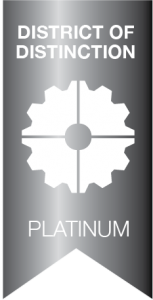 Palmdale Water District has achieved the highest honor from the Special District Leadership Foundation (SDLF) as a District of Distinction – Platinum Level. The District of Distinction accreditation recognizes PWD's commitment to good governance, and to ethical and sound operating practices. PWD's re-accreditation is valid through November 2019. The Platinum Level is awarded to districts whose board members and general managers have completed all SDLF programs. As of April 2018, PWD is only one of six special districts in California to receive this honor. There are about 2,000 special districts in the state.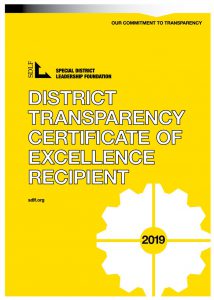 PWD has also earned the District Transparency Certificate of Excellence re-accreditation from SDLF. The Transparency certification, which is good through June 2024, recognizes PWD's completion of all transparency program requirements designed to promote transparency in the District's operations and governance to the public and stakeholders. The SDLF is dedicated to promoting excellence in special district governance and operations throughout California.
Strategic Plan
Palmdale Water District's strategic plan, and its six key initiatives, was created by our Board of Directors to act as a road map as we forge ahead. We share these initiatives here so that our staff, customers, neighbor agencies, and regulators can all be a part of our efforts to reach our goals. Community is the key to progressive action, and we couldn't be more proud to serve the people of Antelope Valley.
Water Rates and Fees
Water rates and official fee schedules are available under the Customer Service tab of our website. Water revenues were increased by 8.1% annually for five (5) years, starting on January 1st, 2020 through December 31st, 2024. The revenue adjustment will allow PWD to manage and upgrade aging infrastructure, including water meter and pipeline replacement so that customers will continue to receive high quality water. For more information visit our current rate resolution.
Rules & Regulations
Palmdale Water District's Rules & Regulations, and its eighteen articles, outline how the District is operated. A complete copy can be downloaded here.